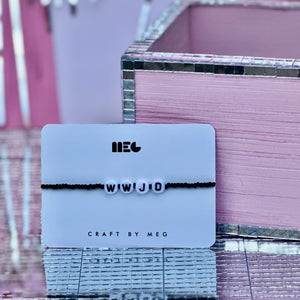 Please allow
up to three business days

for order shipment - I hand make each bracelet as they are ordered.

LENGTH/SIZE:

 
Choose which length you would like your stretch bracelet to be.
Alt Text: Customizable WWJD length stretch bracelet - made of solid black seed beads and a letters "WWJD" meaning - what would jesus do? The bracelet length is customizable and each bracelet is handmade in Charlotte, NC.
*Product availability subject to change due to back stock. In the event that item is unavailable CBM will offer full refund on product purchased.